Winter might be gone, but for many of us, the colourless cloud of the season is still hanging over our home decor, making everything dark, dull, and just plain depressing. Luckily for you, there are plenty of exciting interior design trends popping up that are perfect for creating a  brighter, fresher, and more relaxed space. 
Whether you're looking to completely redecorate or just want to update a few elements of your home, we've got the know on the latest summer colours, textures, prints, and styles that'll transform your space into your very own island paradise. So, whip out your mood board and get comfy as we reveal the top 10 summer interior design trends for 2023, complete with tips and tricks to take your refresh to the next level. 
1. Sustainable Materials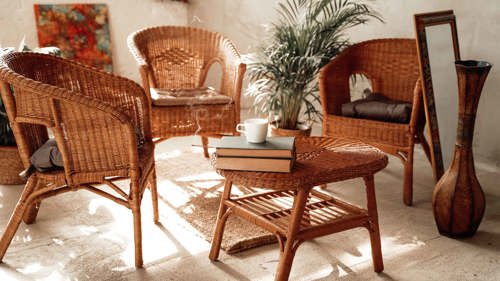 Sustainability continues to be a hot topic in the world of interior design. This summer, we're seeing a shift towards more natural, sustainable materials like bamboo, cork, and recycled wood. Not only are they eco-friendly, but they also add a warm, organic touch to any space. 
Consider switching rigid, plastic furniture for a cork or recycled wood piece, or introduce bamboo into your space with custom blinds. For a more affordable update, change out a light fitting or rug for something more natural and sustainable.
2. Natural Textures
Building on the sustainable materials trend, natural textures like rattan, jute, and linen are also making a big splash this summer. These textures add depth and dimension to your space while still feeling light and airy. Whether upcycling a rattan and cane furniture set or warming up your living room with a jute rug, you can incorporate texture in small ways that make a big impact. 
3. Bold Prints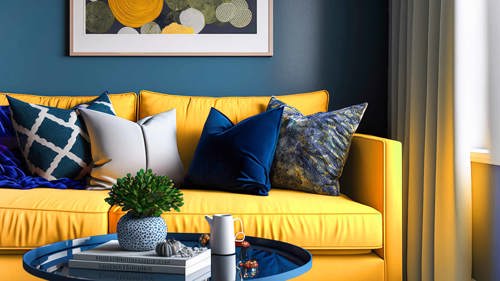 If you're feeling adventurous this summer, try incorporating bold prints into your interior design. Think oversized floral prints, geometric patterns, and abstract designs. They add a fun and playful vibe to any room and can be incorporated through throw pillows, curtains or even a statement wall. 
Wallpaper has also made a big comeback in the last five years. While they might not be for everyone, their loud and daring designs can liven up even the dullest walls or rooms. The golden rule with colourful wallpaper is to use it sparingly and place it strategically for a pop of colour that doesn't make you dizzy.  
4. Neutral Colour Palettes
Neutral colour palettes have always been a classic choice for interior design, and they're not going anywhere this summer. Think whites, beiges, and soft greys, paired with natural textures and plenty of greenery. The key is to keep it light and airy, and add colour with your decor and furiture. 
5. Artisanal Accents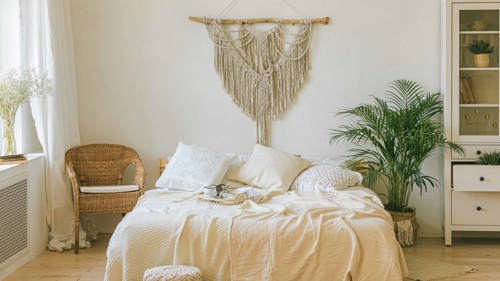 Handmade pieces and artisanal accents are having a moment in interior design. From hand woven rugs and macrame wall hangings to handcrafted pottery, these pieces add a touch of personality to your space and can be a real conversation starter. 
6. Maximalism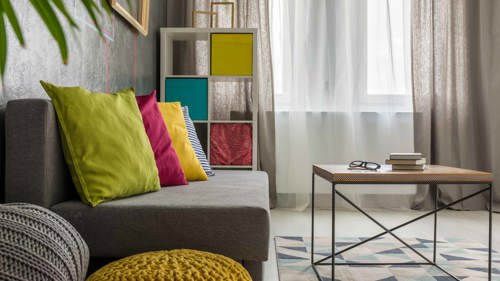 While minimalism has been a popular trend for the past few years, we're starting to see a shift towards maximalism. This summer, don't be afraid to go bold with your decor. Mix and match patterns, colours, and textures to create a visually interesting space that is both cosy and calming. 
However, don't go too wild and potentially clutter up your space. If you don't have room for new accents or items you love, consider renting a storage unit to free up space and ensure your home stays open and airy. 
7. Vintage Pieces
Vintage pieces are always a great way to add character to your space. Whether it's a vintage rug or an antique piece of furniture, they add a sense of history and nostalgia to your home. Plus, they're often more sustainable than buying something new.
Upcycling has always been a trend, and finding a unique item of furniture that needs some TLC and a lick of paint might be exactly what your home needs for a new look. 
8. Biophilic Design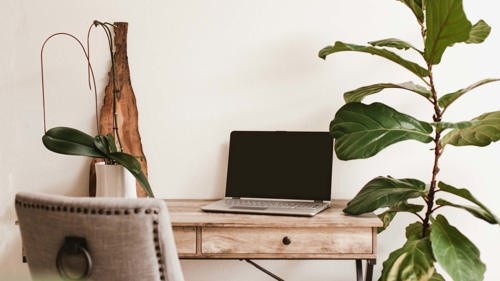 What's biophilic design you ask? It's not as otherworldly as it sounds, in fact, it's as down to earth as it gets. Biophilic design incorporates natural elements into interior design, and is gaining popularity this summer. 
Whether adding indoor plants, harnessing natural light, or building a water feature in your back garden, these elements help create a calming and relaxing environment, perfect for summer.
9. Curved Furniture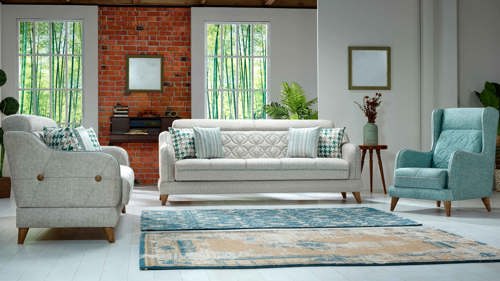 Curved furniture might have been the in-thing in the 70s, but it's making a comeback this summer. Curved sofas, chairs, and tables are all the craze these days, as is organic dinnerware, ceramics, and decor. Curved furniture adds a softness and fluidity to your space, making it feel more relaxed and more inviting.
10. Modern Rustic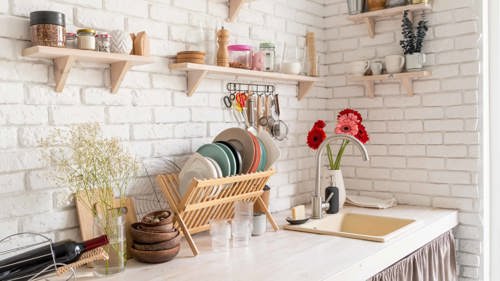 Finally, the modern rustic trend is here to stay. This trend combines sleek modern elements with rustic, natural accents like exposed brick walls or reclaimed wood furniture. It's the perfect balance between old and new, and it creates a warm and inviting space that is unparalleled.
Interior Design Tips to Take Your Home Refresh to the Next Level
More mirrors: Placing a large mirror on a wall can make a room feel much larger than it actually is. It also reflects light, making the space feel brighter.
Layer lighting: Adding multiple sources of lighting, such as table lamps and overhead lighting, can create a warm and inviting atmosphere.
Hang curtains high: Hanging curtains closer to the ceiling and letting them touch the floor can make a room feel taller and more grand.
Mix textures and patterns: Combining different textures and patterns can add depth and interest to a space.
Play with scale: Mixing furniture of different sizes and shapes can create visual interest and add dimension to a room.
Use plants for a natural touch: Adding plants to a space not only adds a touch of nature, but also improves air quality and can even boost mood.
Create a focal point: Choose one element, such as a piece of art or a unique piece of furniture, to be the focal point of a room and design around it.
Optimise storage: Maximising storage, like adding shelves or using under-bed storage, can make a room feel more organised and spacious.
Invest in quality pieces: Investing in high-quality, timeless pieces, such as a well-made sofa or a classic area rug, can save money in the long run and elevate the overall look of your home.
Incorporate some of these trends into your interior design, and you'll be ready to enjoy the summer in style! If your old furniture is cramping your new style or you desperately need to declutter, self storage is a great way to create more space for less. 
Storage King offers affordable and flexible personal storage solutions with a wide variety of unit sizes so you can store valuable household items during the winter months or as long as you like! Pop into your nearest location for a tour or get a quick and easy quote online.