Storage King is pleased to announce the continued expansion of their portfolio through the acquisition of an existing freehold site in Crewe formally owned by Storage Boost. This latest acquisition brings the total number of branded UK Storage King facilities to 26.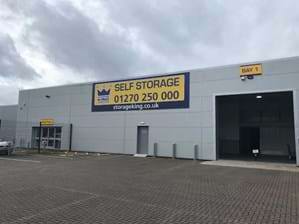 The store which started trading in 2002 was acquired at 64% occupancy, and is 90% fully fitted out and offers a maximum of 47,000 square feet of net lettable space for both residential and business customers in the Crewe area.
Robin Greenwood, Storage King CEO explained that this latest acquisition demonstrated Storage King's continued commitment to purchasing quality, freehold assets in the Self Storage sector. This is our eighth acquisition since May 2011 and follows the purchase of Chester Self Storage in November 2016.
This latest addition fits excellently into the Storage King portfolio: "We are really pleased to have finally purchased this great asset, and I would personally like to thank both Andy and Nick Wood for their patience and hard work during the relocation and fit out of the new store. We are tremendously excited to welcome such a great store and fantastic staff into our group".
The purchase of Crewe was supported through the strong financial backing provided by Stor-Age and free cash within the business.     
Storage King continues to look for high quality, well located, freehold Self Storage sites, development opportunities or existing buildings for development in order to expand their existing portfolio and welcomes approaches from any existing Self Storage operators, land owners or property owners who are considering marketing their property in the near future. Please contact Robin Greenwood [email protected] or Emma Chesterton-Kay [email protected] for an immediate response.