You may think kitchen window sills are only good for holding a few potted plants or maybe some herbs, but you'd be surprised at how many ways you can spruce up your kitchen by utilising this seemingly useless space. Not only can these kitchen window sill decor ideas make your kitchen look great, but they can also provide added function and convenience. Transform your kitchen into a unique space with these stylish window sill ideas:  
1. Plant a mini herb garden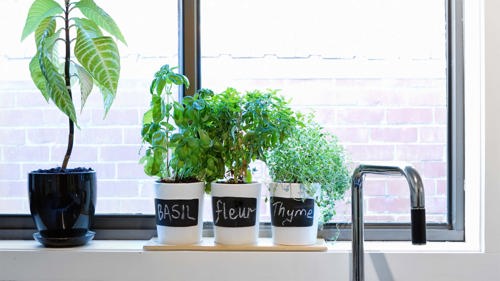 There's a reason why so many people suggest mini herb gardens for the window sill. Most herbs thrive in warm, sunny spots, and a kitchen window sill provides the perfect environment for plantlings. Having a selection of your favourite herbs on your window sill also allows you to snip off exactly what you need for cooking, avoiding unnecessary food wastage.
2. Hang a small kitchen chalkboard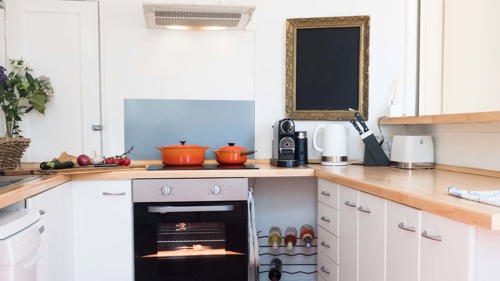 Kitchen chalkboards are perfect for making grocery lists or even writing down daily reminders for your partner or kids. It's also great for leaving fun and motivating messages for family members or roommates! 
If your kitchen space is a bit snug, the window sill is the perfect place to hang one of these. Simply lean it against the window or stick it with some double-sided tape, and viola, you have yourself a functional kitchen board. 
3. Display decorative items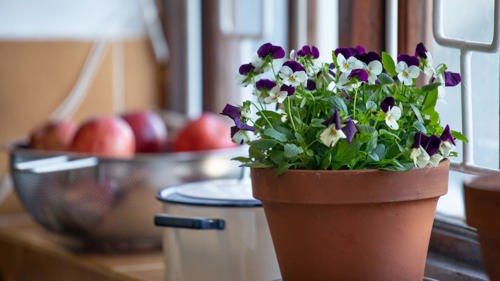 Show off your favourite knick-knacks or vintage items on the kitchen window sill. For example, you can display old teapots or mason jars filled with tea lights for a rustic look. This is also a good space to keep a couple of cookbooks you'd like to read. It might even motivate you to give a few recipes a go! 
4. Add kitchen utensil hooks
 
Install kitchen utensil or tea towel hooks along the kitchen window sill to keep your essentials within easy reach. 
To best utilise this space, hang hooks horizontally beneath the window sill and neatly organise cooking utensils, dry cloths, and even small cutting boards. If space allows, you can also hang a few of your best mugs for a stylish farmhouse look. 
5. Place kitchen appliances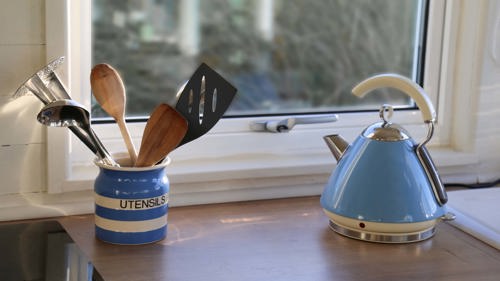 If your kitchen window sill is wide enough, you can use it to place small kitchen appliances like blenders, milk frothers, and coffee makers for convenient access. 
Make sure that the appliances are not balancing on the edge, and that there's enough space to use them without damaging the window or appliance. It's also important to consider where the wires will lie, and ensure they are out of the way when cooking or washing up. 
6. Decorate with fresh flowers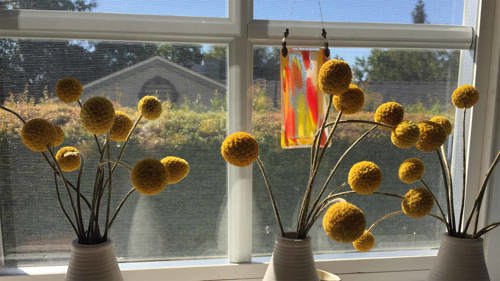 Brighten up your kitchen with a bouquet of fresh flowers on the windowsill to give it an instant uplift! 
Fresh flowers can add a touch of beauty and colour to any room, and what better way to enjoy them than by using your windowsill as a makeshift vase? The best part is that you don't need to have a green thumb or a big backyard to enjoy fresh flowers, all you need is a windowsill and a bunch of your favourite flowers. Mix and match different flowers and colours to create a unique and vibrant display each week.
7. Turn it into a rustic spice rack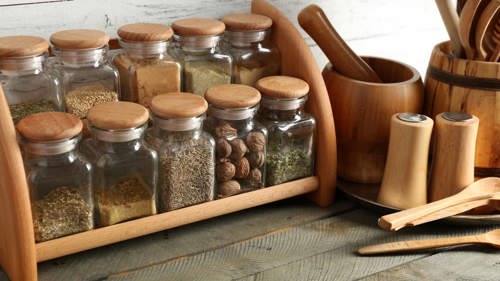 Spices can add a lot of flavour and excitement to your cooking, so having them on hand is a must! By adding a makeshift spice rack to your window sill, you'll be able to lean over and grab a pinch of cumin or a dash of cinnamon whenever you need. 
It's a simple and efficient way to store your spices, and it also adds a touch of charm to your kitchen. Plus, keeping your spices on your windowsill exposes them to natural light and air, which can help them retain their flavour and aroma for longer.
8. Create extra storage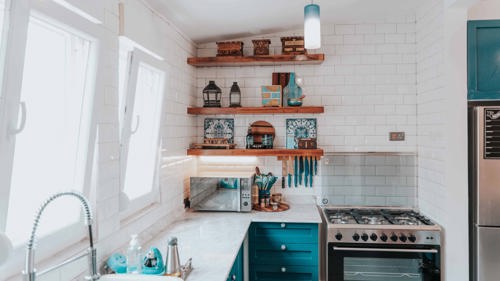 Use the space to install shelves and create extra storage. You can use the kitchen window sill area to fit in additional shelves that are accessible from either side of the window. This is especially useful if you don't have much room for storing things like spices, condiments, herbs, or kitchen gadgets.
No matter what type of kitchen window sill decor you choose, these ideas are sure to help you transform your kitchen into something special! So get creative and have fun making your kitchen more visually appealing and functional! 
If these ideas don't solve your kitchen space needs, then maybe it's time to try self storage. Boasting a wide range of unit sizes, convenient access, and advanced security, Storage King is the ideal household storage solution. Store furniture and seasonal decor with our personal storage, or rent a business storage unit for stock, equipment, and more. Pop into your nearest Storage King facility for a tour or get a quick and easy quote online.