At Storage King we help customers store items of all shapes and sizes. At times it is the usual household or business items that are just taking up too much space, but there are times when our customers have unusual storage needs. If you are a Transformer fan, read on!
Lee Caller, an avid follower of the Transformer, series recently came to us with an unusual request. He needed to store an 8-foot bot inspired by the Bumblebee character from the Transformer movie series.
His inspiration led the creation of 'Bee', which is 8-feet in height, 3-feet wide with light up headlights and a transforming helmet. Lee takes this unusual character to various events and promotions around the UK. When he is not entertaining, he is kept safe with us at Storage King.
It takes Lee about 2 hours to get the suit on and ready to perform, but the wait is worth it as watching the character in action in a treat. The 8-foot bot is fully functional and can even walk around. The kids love it!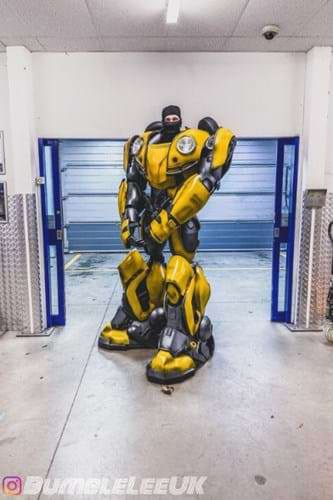 Lee recently held a photo shoot at one of our Storage King stores which you can see here. His next appearance is scheduled at MCN Comic-Con in London on 29 May, but you can view all of his appearance dates on his website below. You can also follow the journey of Lee's character by following him on Instagram.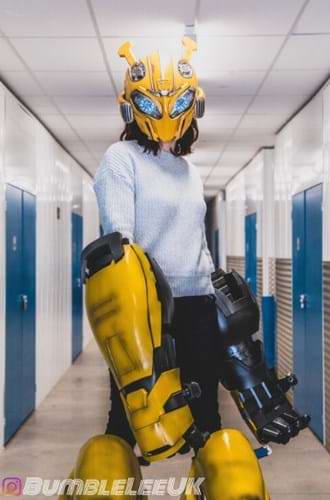 The benefits of storing such an item with us is that Lee has complete flexibility to upsize or downsize his unit as needed (if more such characters were to join the Bee family for example) or if he needed to move from one store to another. He can also rest assured that his prized possession is safely stored in his unit for when he needs it again. It also means that he doesn't have to store this 8-foot character in his garage or living room!
Each day we get to talk to customers of all sorts to help them with their storage needs, whether they are storing a few small boxes or an unusual character such as Bee. If you have any storage needs, give us a call on 0800 0852 954 or visit our website here to get a free and fast self storage quote.
We even have a self storage size estimator to help you choose the perfect space to suit your needs.
Please note. Lee is an independent cosplayer / performer and does not represent or have any affiliation with Hasbro or the Transformers brand.